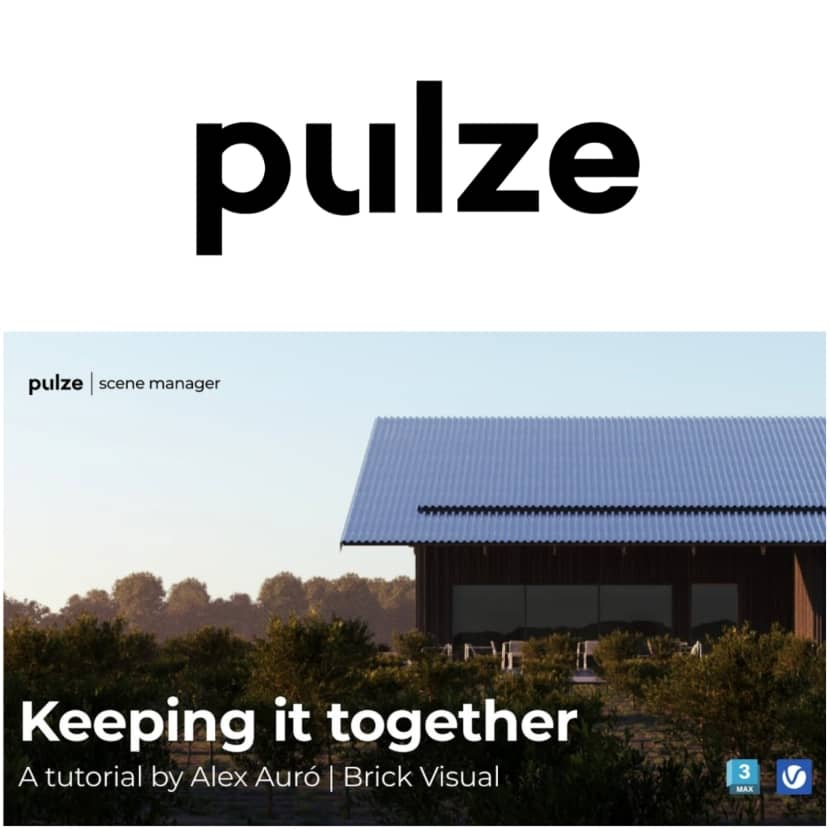 Pulze and Brick Visual have released a new tutorial explaining how to use its Scene Manager to create 3 images with different moods while keeping everything in one file.
In this tutorial, Alex Auró from Brick Visual showcases how he created 3 images with different moods while keeping everything in one file.

Alex explains his approach to composition and lighting for each image and goes deep into the elements that made his sketches. Throughout the tutorial, he uses 3ds Max 2023, V-Ray 6, and Scene Manager as his primary tools.

After each image, Alex uses the Scene Manager to gather and store all the settings. This allows him to jump between the scenes, try out different things and always restore the saved state.

You will get some great tips and insights about:

☀️ creating a sunrise mood using a simple sun and sky
🌳 adding foreground shadows with a quick and dirty trick
☁️ achieving an overcast effect with the combination of a dome and sun
📽️ using the filmic tone map, exposure, and some lightmix to get a decent look right from the beginning
♻️ dealing with the problem of switching between layers and moving objects around for each camera
🌫️ applying environment fog and aerial perspective to get more depth
📁 setting up a render output for each image to prepare them for batch rendering

In this video you can learn the following:

⏱️ Timestamps

00:00 - Intro
00:56 - Preparation
03:27 - Scene 1 [OLIVE]
09:10 - Scene 2 [RAZOR]
15:37 - Scene 3 [MISTY HOUR]
22:05 - Render Output and Batch Rendering
24:57 - Goodbye

Enjoy watching this awesome video tutorial now!
Pulze is a set of user-friendly, customizable, and powerful pipeline tools that supercharge 3D visualization workflows. Designed by a group of passionate archviz experts and coders, the software family fills a gap in the industry by providing highly automated processes that increase the quality of your work in an efficient way.