RebusFarm TeamManager for Cloud Rendering
Our new feature allows you to manage your cloud rendering as a team using one master account to manage.
As an existing RebusFarm user, go to 'MyRebus - TeamManager' and you'll be able to add and manage your team members by creating subuser accounts. Therefore you need to enter their e-mail addresses which are not yet registered at RebusFarm.
Once added, your team members will now be able to use the RenderPoints held on the master account. But no worries, all is under your control: As the master account manager, you are the only person who is able to add new members, activate or deactivate their accounts and manage payments and invoices.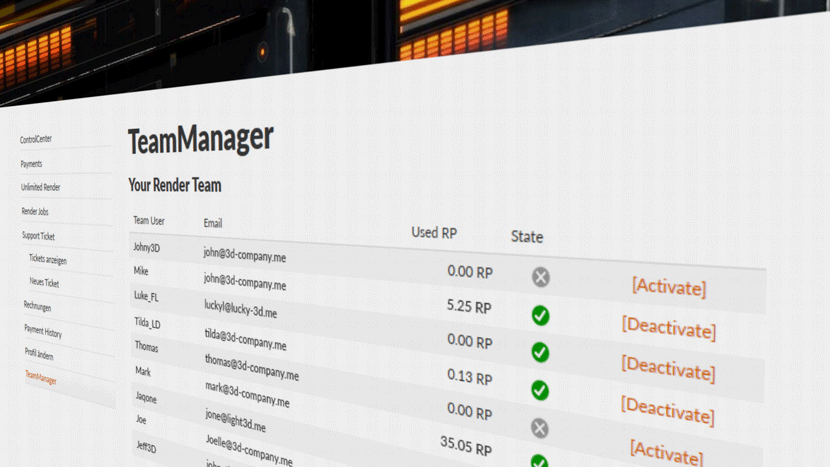 The Perfect Cloud Rendering Solution for Teams
Go to 'Render Jobs' to gain insight into the progress of your subusers' render jobs. Although with limited access to some features, subusers can of course also use the RebusDrop software and have their own ControlCenter. At the moment you'll be able to add a maximum of 5 subusers. But no worries, if you need more, contact our support team and they will add more subusers for you!
The RebusFarm TeamManager is the must-have solution for project work and 3D studios for collaborative cloud rendering.
Team User Rights
| User Rights | Master-Account | Subuser-Account |
| --- | --- | --- |
| Create/activate/deactivate subuser account | |   |
| Edit subuser profile |   | |
| Access to payments and invoicing | |   |
| Overview of all subuser accounts | |   |
| Upload download and manage own render jobs | | |
| Buy RenderPoints for the team | |   |
| Cloud rendering using the RenderPoints of the team | | |
| Overview of RenderPoints spent on each render job & by each user | |   |
| Overview of RenderPoints spent on own render jobs | | |
TeamManager FAQ
A subuser can't log-in.
The master account needs to check the tab 'TeamManager' for activated accounts. If the account mentioned is not activated, you change settings there.
---
As a master account user, can I manage the jobs of my team members?
Not yet but we're working on that.
---
Can subusers buy RenderPoints for cloud rendering?
Only the master account will be able to make payments for the cloud rendering team.
---
Can I add existing RebusFarm users as subusers?
No, subusers must be using an e-mail address which is not yet registered with any RebusFarm account.
---
I would like to use the mailing address of a subuser account as a full RebusFarm account. But the system states the e-mail address is already in use. What can I do?
In order to change your account, please contact our support team.