"CREATE YOUR TROPHY" - COMPETITION
Monday, September 16th 2013 by Margarete Kitel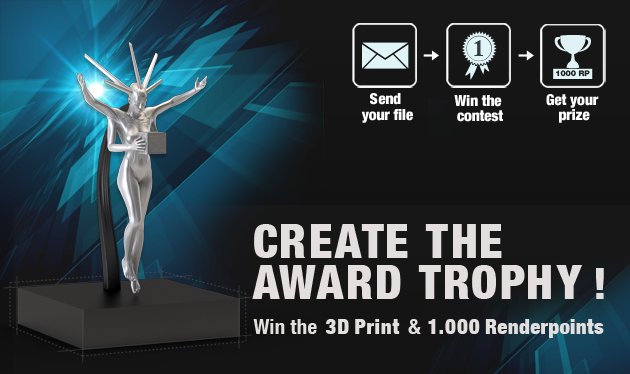 How do you imagine the trophy of the RebusFarm 3D Award Contest?
This time we want YOU to create the RebusFarm 3D Award winner's Trophy! Create the trophy as 3d-model and show us your idea. We will pick the most creative and suitable design for our award. The best design will be printed as a physical 3d model and will be presented in each of the 5 categories of the RebusFarm 3D Award. The winner of the "CREATE YOUR TROPHY" -COMPETITION will receive his own copy of the designed trophy as a 3D printed physical cup and additionally gets 1.000 Renderpoints on RebusFarm.
Once this pre-contest is over, the main-contest starts. Like last year, the RebusFarm 3D Award will take place on our facebook page. We are very excited about all the great 3d work we will get to see this year. There will be 5 categories from which we will choose a total of 10 winners who will get jury and community-prizes. We are giving away prizes with a total value of 26.000 EUR (aprox. 35.000 USD).
You can send us your trophy creation until the 13th of October 2013.
So get your pc's running and unleash your creativity!
For detailed information take a look on facebook.com/RebusFarm.
Sponsors
| | |
| --- | --- |
| | Next Limit Technologies is committed to providing cutting edge simulation technologies for a broad range of applications in Computer Graphics, Science and Engineering. Our research and development at Next Limit continues to explore and improve simulation techniques, advanced mathematical models and programming methodologies. See more: www.nextlimit.com |
AXYZ design offers Innovative and easy to use computer graphics product such as revolutionary 3D Models for Close-Up views and the fastest Stand-Alone character animation application especially developed for 3D Artists, architects and designers.
See more: www.axyz-design.com
CGarchitect is the leading and most influential online magazine and end-user community for architectural visualization and design professionals. CGarchitect remains steadfastly dedicated to providing valuable resources for architectural visualization professionals. Reaching over 375,000 unique visitors each month, CGarchitect is the only resource in the industry that brings together design professionals from around the globe.
See more: www.cgarchitect.com
| | |
| --- | --- |
| | Indigo Renderer is an unbiased, physically based and photorealistic renderer which simulates the physics of light to achieve near-perfect image realism. It is a product of Glare Technologies Limited, a New Zealand based company who has been developing Indigo since 2004. See more: www.indigorenderer.com |
| | |
| --- | --- |
| | Since Chaos Group started its business in 1997 their trendsetting rendering technology V-Ray became the renderer of choice for many 3D production houses today due to its capability to deliver high quality photorealistic images in the shortest time. The professional expertise and experience of Chaos Software team and the feedback provided by their customers forged V-Ray into what it is today – trendsetting rendering technology. See more: www.chaosgroup.com |
Thea Render is a state-of-the-art Biased, Unbiased and GPU renderer with a rich set of innovative features, a powerful material system and its own advanced studio, all-in-one. Thea Render comes with high quality materials exclusive for the licensed users, integration with various modelers, and advanced features such as Photometric Analysis, Colimo Support and many more.
See more: www.thearender.com
| | |
| --- | --- |
| | at2 develop professional, individual and extraordinary software solutions in the areas of 3D, mobile apps and software used at exhibits, fairs and presentations for businesses or private clients. Our software is individually tailored to your needs, focussing on the ease of use, flexibility in terms of extensions, highest quality and above all the attention to detail. See more: www.at2-software.com |
SQUIR offers high quality, photorealistic and precise digital models. The company was founded in the year 2000 by Tomasz Rozkosz who specializes in sophisticated car models and built up a huge database that provides a variety of over 2300 stock 3d models. SQUIR also makes customised 3d models upon request.
See more: www.squir.com
Humster3D – it is a team of more than 50 professionals with huge experience in 3D modeling. Since 2005 they became a leader in the creation of the detailed 3D car models and gathered the largest collection of various 3D vehicle models in the world.
See more: www.humster3d.com
| | |
| --- | --- |
| | Evermotion creates and develops products that help CG artists with their 3d visualizations by speeding up their workflow and increasing their quality of output. It is one of the world's biggest CG portals and it concentrates CG fans from all over the world. Since the beginning in 1998, Evermotion has developed a strong position in the global CG market with thousands of customers. See more: www.evermotion.org |
| | |
| --- | --- |
| | DOSCH DESIGN develops demand-inspired computer graphics products for professional use in the areas of 3D-design, visualization, animation, movies/TV and desktop publishing. In this endeavor DOSCH DESIGN translates its high design and quality aspirations into high-quality products with an attractive price/value ratio. DOSCH DESIGN products can always be used license free, which means there are no additional cost for commercial use. See more: www.doschdesign.com |
---