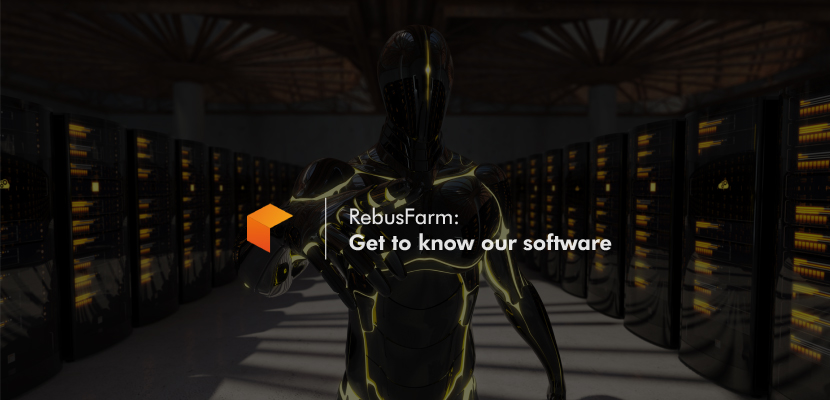 Introducing our very own RebusFarm software, designed to make the rendering process easier and more efficient than ever before. With this powerful tool, you can easily manage and optimize your rendering tasks, without the need for complex technical expertise or specialized equipment.
The RebusFarm software is composed of three distinct components, each with its unique capabilities.
The ControlCenter, which provides a centralized hub for managing your render jobs, monitoring system performance, and accessing all the features and functionality of the RebusFarm platform.
The Farminzer, which is a lightweight plugin designed to seamlessly integrate with popular 3D software like 3ds Max, Maya, Cinema 4D, and more. With the Farminzer, you can easily offload your rendering tasks to the RebusFarm network, and take advantage of its vast computing resources to complete your projects faster and more efficiently.
Finally, there is the RebusDrop, a powerful tool that allows you to easily transfer large files and assets between your local machine and the RebusFarm platform. With the RebusDrop, you can quickly and easily upload your scene files, textures, and other resources to the cloud, and then download the finished render results directly to your local machine when they are ready.
The ControlCenter

With your ControlCenter, you have access to a range of features, including the ability to create or edit your account details, manage your jobs, and view important account information. Take control of your account and streamline your workflow with ease. ControlCenter features contain:
If you need to make some minor changes to a previously rendered job, you don't need to worry! In the ControlCenter, you can easily re-render most jobs without having to re-upload the entire project. Simply click the resubmission button, and your modified job will begin rendering once again. Please note, this resubmission will not include any changes made to the settings or modeling.
The ControlCenter's responsive design enables seamless job management on your smartphone, eliminating the need for an additional app. Easily control and manage your jobs from the convenience of your mobile device.
As soon as they are completed, your output will be downloaded to your local directory, with just a few clicks away you can access your local folder with your renderings.
The ControlCenter preview offers a more efficient presentation of all the layers that your project contains, with lightning-fast playback. This incredible feature enables you to instantly view completed frames in the preview window. Plus, by simply moving your cursor across the preview window, you can explore the entire animation and its individual layers.
Additionally, the ControlCenter offers a range of features to enhance efficiency. You can make payments, check invoices, contact the support team, and check the live status of your projects and more.
The Farminizer
The Farminizer Plugin appears inside your 3D Software once it's downloaded. We have built this plugin with useful features, a user-friendly interface, and enhancements to the workflow for your 3D software.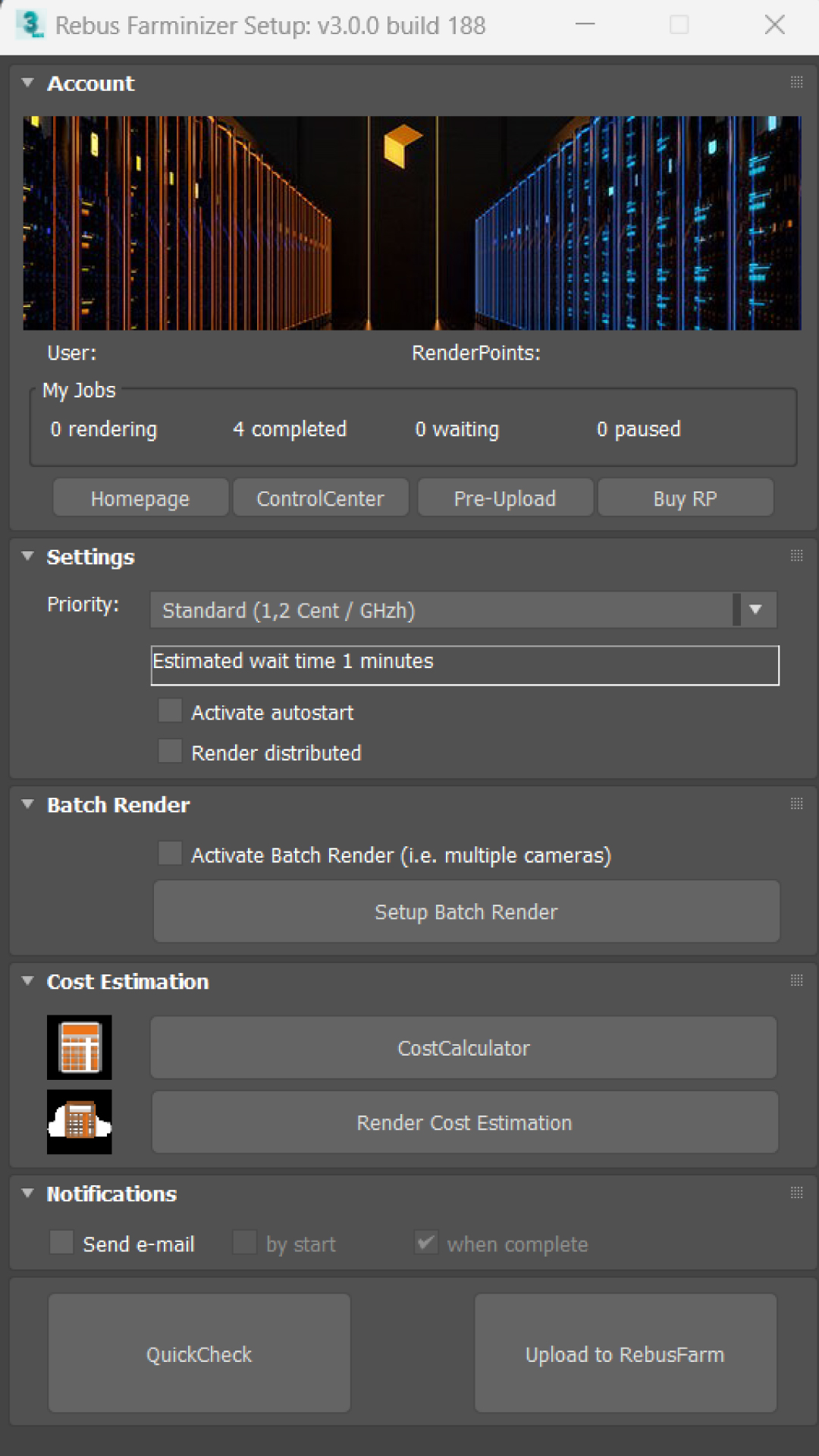 What things can you do with the Farminizer?
This feature will allow you to render multiple cameras in a single render job. You no longer need to upload the scene multiple times to change the camera angle. Simply submit the render job once with all the desired cameras selected, and receive separate renderings for each camera angle simultaneously.
Our render cost estimation tool offers a precise cost estimation by conducting test renderings on the farm. This approach ensures a more accurate cost estimation compared to the conventional method, which relies solely on computer parameters. Moreover, the test frames rendered will be seamlessly incorporated into your project, eliminating the need for re-rendering and any additional costs.
The Farminizer Plugin seamlessly integrates into your 3D software with a visually harmonious appearance. It complements the look and feel of your software while incorporating numerous interactive elements to simplify your workflow.
To significantly reduce the upload time of your assets by up to 90%, simply send them in advance. By clicking on the Pre-Upload button, your job will commence uploading even as you continue to work on it.
Rebus Farminizer has the ability to automatically detect and correct errors. As a result, you can expect to receive fewer warnings, and the warnings you do receive will have a detailed step-by-step on how to correct them./p>
Never upload textures twice (autodetection)
Our autodetection system at RebusFarm ensures that your textures are not uploaded twice. It scans through our existing stock of files from previous jobs and avoids re-uploading them. This results in a faster upload process for you.
By streamlining the preparation process, the RebusFarm Farminizer helps you to save time and to avoid errors that can cause rendering delays and other issues. Overall, it is a useful tool for everyone looking to optimize their cloud rendering workflow.
The RebusDrop

This tool allows users to easily and securely upload and download files to and from the RebusFarm cloud rendering platform.
Faster upload and download
RebusDrop automatically optimizes your transfer protocols and uses the best fitting mode according to your internet access, so that you benefit from the fastest possible up- and download of your files.
Files downloaded as soon as completed
RebusDrop automatically optimizes transfer protocols to provide faster upload and download speeds.
This tool allows you to monitor your uploads in real-time and to check the upload speed and file transfer until your project is fully uploaded to the farm.
RebusFarm offers a suite of powerful tools and features to help streamline your cloud rendering workflow. From the ControlCenter, which offers a range of features to enhance efficiency, to the Farminizer Plugin that seamlessly integrates into your 3D software, and the RebusDrop that allows for easy and secure file transfers, we are dedicated to providing our community with the best possible experience. We will continue to innovate and improve our software based on the feedback and needs of our users so that they can focus on creating amazing 3D projects without the hassle of rendering.
Download our software now and try it yourself!