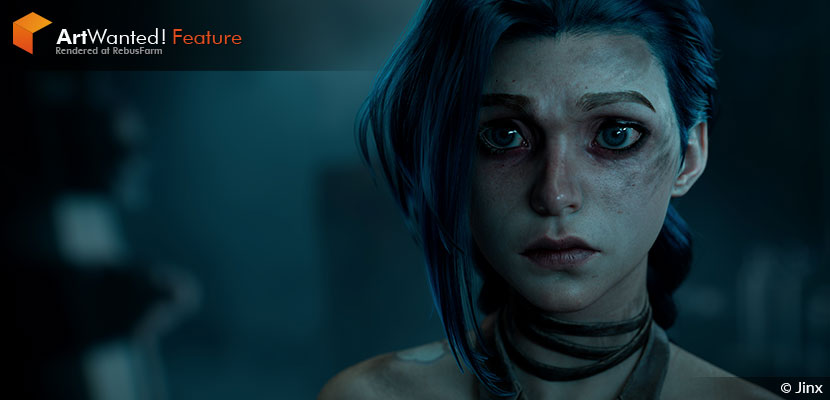 "Here's to the new us!" As the world around us continues to change rapidly, what remains the same is our enthusiasm for the 3D community and the outstanding work its members share with us at Rebus Render Farm. This month, senior character artist Joshua Wu blesses us with his evocative depiction of Jinx, the well-loved loose cannon from the 'League of Legends' media franchise. Not your regular piece of fanart, Joshua's 3D rendition faithfully captures the essence of the character through a more photographic aesthetic, and was very well-received online.
Check out our interview to learn how Joshua struck the right balance between photorealistic and stylized and gain insight into his creative process!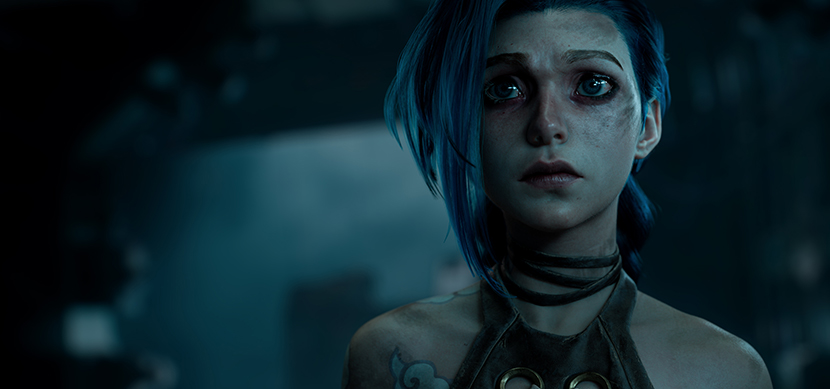 Pow-Pow? Instead of guns a-blazing, Joshua's portrayal of Jinx sees her at her most vulnerable.
Hi Joshua, thanks for joining us! To start things off, please introduce yourself to our readers.
Hello there! My name Joshua Gouw, though online I usually go by Joshua Wu. I am a 28-year-old 3D character artist from Indonesia.
Can you briefly summarize your professional history up to this point? What are some of your personal highlights or favorite projects of your career so far?
After graduating from 3dsense, an award-winning Singaporean media school, I started working as a freelancer on a couple of Kickstarter projects. I did modeling, sculpting, texturing, and lookdev for an indie game, but then had to take an extended break to help out the family business. My return to the industry came in 2019, when I joined Brandoville Studios as senior character modeler.
After only a year, I given the opportunity to lead the team as art director, which was a huge step up in terms of responsibility. As senior artist, I was mostly focused on the task at hand, whereas art direction involves extensive communication with both the client and the team to make sure everything is moving as planned at all times.
Brandoville is Indonesia's leading AAA games and animations studio, the projects we worked on included 'World of Warcraft III: Reforged', 'Final Fantasy XIV', and 'The Last of Us Remastered', which was especially exciting. We were in charge of some of the assets, environments, and concept art, and the entire team thrived to fulfill the vision of the client. We also designed and produced collectible figures for several notable Warner Bros. IPS, such as Looney Tunes and Tom & Jerry.
Which brings us to your current job as digital sculptor a XM Studios, a company specialized in the production of high-quality collectible figurines for blockbuster franchises like Marvel, DC and Star Wars.
Working on collectibles is very different from my previous jobs. First and foremost, we are dealing with a physical product: from sculpting to painting, our pieces are fully handcrafted before being 3D printed. It is extremely fun, because unlike with games and cinematics, it does not require elaborate technical workflows. In coordination with our concept department, we also have the creative freedom to reimagine the characters to an extent.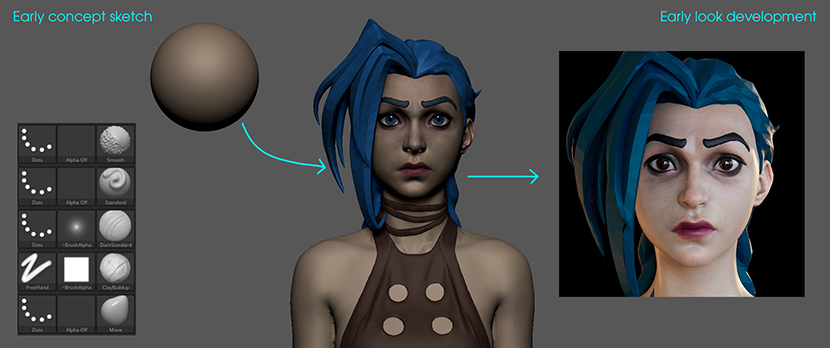 Some early lookdev testing. For a more comprehensive insight into the development process, check out Joshua's detailed project breakdown here.
Did you always plan on specializing in character art?
When I first learned about the industry, my dream was to be an animator. But when I came across ZBrush, I fell in love with the work and have pursued a career as a 3D character artist ever since.
What is some advice you would give to aspiring character artists?
3D modeling can be daunting at times, there is so much you need to learn to be good at it. The most important thing is to not get overwhelmed! It takes time, so start small. Do not expect to be able to create a movie level 3D model in a month. Take it one step at a time, and if you are passionate about the work, you will naturally progress and improve at a steady pace.
In your experience, what is the current state of the CG industry and community in Indonesia and Southeast Asia?
We are definitely growing steadily! I know some of the most talented people from Southeast Asia and I cannot wait to push the industry further with them!
Let's talk about your work in more detail, namely your realistic 3D model of Jinx, the criminally insane character from the 'League of Legends' franchise, and more specifically, her appearance in the animated Netflix series 'Arcane'. Can you first of all describe the circumstances that lead to the creation of this project? What attracted you to this particular character?
My idea was to create a portfolio piece that showcases both realistic and stylized character modeling, killing two birds with one stone, as they say.
When 'Arcane' was first released last year, I was immediately captivated by the series. Jinx is a very popular character in the LoL community, so I decided to challenge myself to depict her in a more realistic style while maintaining the essence of her character and personality.
What were some of the challenges you had to overcome and how long did it take you to complete the project?
The most difficult part was learning all the tools needed to create the character. Early in the project, it felt like not knowing how to properly hold a pencil while trying to draw. But I decided to kept pushing forward and eventually, I learned so much.
All in all, completing this project took me around three months, working on and off in my free time.
Turning the canonically more cartoonish look of Jinx into a realistic portrait, how did you find the right balance between photorealism and stylized aesthetic, and how did you approach the overall art direction?
Before I started with the project, I did a lot of research in order to establish the art direction. I extensively studied Jinx's appearance not only in the show, but also in fanart, cosplay, and other illustrations. Analyzing all these different ways people interpret Jinx and the approaches they take in portraying her helped me develop a better understanding of the character.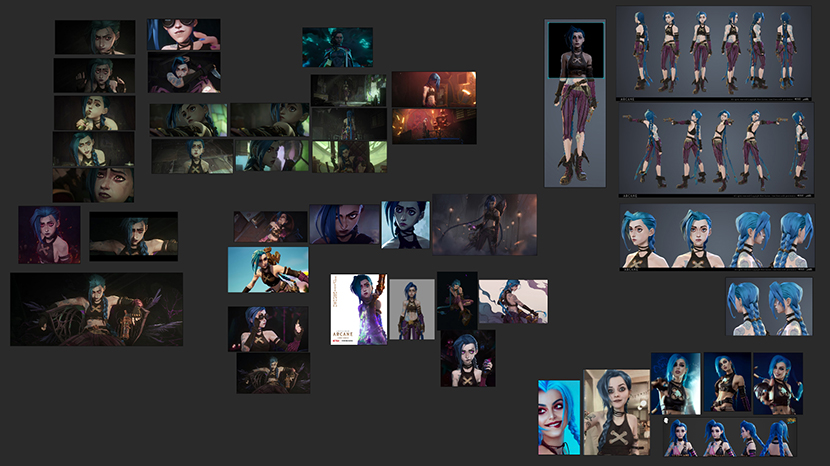 Joshua's reference sheet, combining character artwork and cosplay from official sources and fans.

I tried to streamline the art direction process as much as possible by working out a gameplan early on. Having previously worked as an art director definitely helped a lot in that regard. One thing I learned while working on her face was that I did not have to make her look photorealistic, but photographic. Compared to a real human being, her facial and body proportions are very different: her eyes being too big, and her head is too large, but anatomical accuracy was not all that important for what I was going for. Realizing this was crucial in achieving her final look. 
One of my biggest inspirations in that respect was James Cameron's 'Alita: Battle Angel', and how they visually adapted the titular character from the Manga mixing CGI and live-action. While some consider it uncanny, I personally think they did a great job, I found Alita's appearance to be deeply humane.  
Instead of showing her laughing manically or toting her trademark oversized guns, your portrayal of Jinx looks haunting and vulnerable instead. Can you elaborate on your decision to do so?
From the very beginning, I set out to replicate her calm and troubled look from the show. I wanted her look to convey how she is feeling inside: unsettled, confused, and subliminally angered. Jinx is a sad and broken character, which is why so many people empathize with her.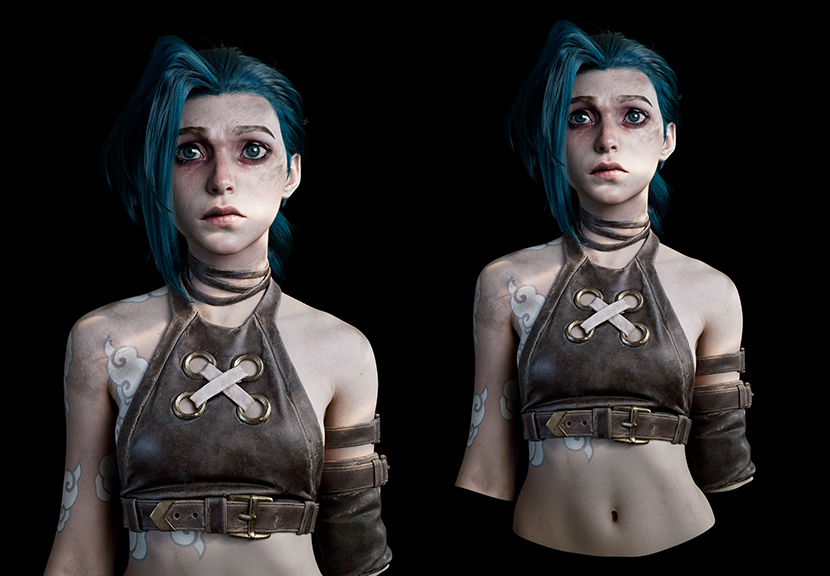 These half body shots show more of Jinx's leather clothing.

What software did you use to create this piece? Any plug-ins you found particularly helpful?
I did most of the sculpting in ZBrush, including shaping the model into its final state. I used Maya for lighting and renders, everything had to suit Jinx's style and character. For texturing, I used Substance Painter, trying to push the surface texture of her clothes as far as I can. Oh, and Marvelous Designer is great for simulating clothes, I used it as a starting point to quickly create the outfit shape before sculpting it.
Are you satisfied with the results? What has the feedback been like so far?
To be perfectly honest, I did feel a little nervous before posting the piece publicly. Having worked on it for so long, all I could see where the flaws and mistakes I made. Still, I tried my best stay disciplined and simply call it done.
Fortunately, the feedback has been nothing but amazing! In the end, I am glad I was able to put my own spin on Jinx, and I hope this will inspire other artists, just as I was inspired by so many fantastic artists out there!
What is one thing you yourself have learned from this project that you can share with us?
Here are three important points that I learned throughout this project, in no particular order:
Art is subjective, there is no right or wrong! Even when taking the same approach, that is staying faithful to the source material, other artists would probably make a very different Jinx.
It is a trial-and-error process, so keep scrutinizing your own work and always look for constructive feedback from the people around you.
Keep an open mind and closely observe everything around you, it will heighten your artistic sensibilities.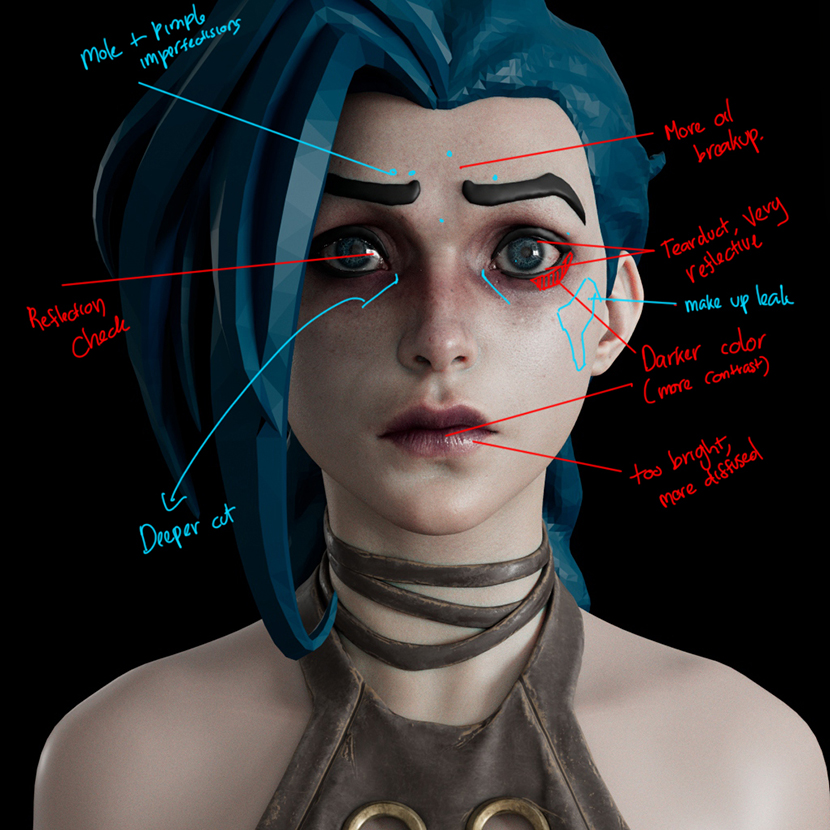 These half body shots show more of Jinx's leather clothing.

Please tell us about your experience with RebusFarm. Is there anything you especially like about our service?
This was actually my first time working with a render farm, and I am glad that my experience with RebusFarm turned out to be a good one. What I like about it is that everything is simple and straight forward. All you need is an internet connection, and you are on your way. And then while you are rendering, you can continue working!
In closing, is there anything else you want to say? Any plugs, shoutouts or present or upcoming projects you'd like to mention?
Thank you for reading, and thank you RebusFarm for featuring me. I am extremely thankful for the positive response. Oh, and please watch 'Arcane', it is amazing!
Joshua, thank you so much for taking the time and all the best in the future.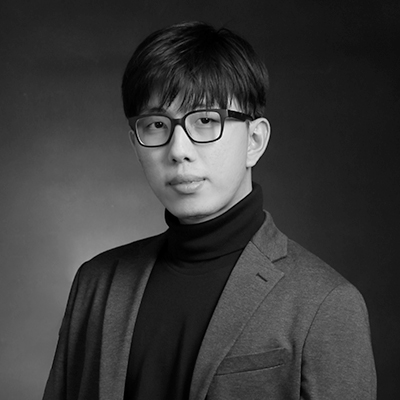 About the artist
Joshua Gouw, better known as Joshua Wu in online circles, is a 3D character artist from Indonesia. An experienced digital sculptor and modeler, Joshua currently works at XM Studios, where he is involved in the creation of high-quality collectible figurines from some of the most iconic pop-culture franchises.
Get started with your own renderings