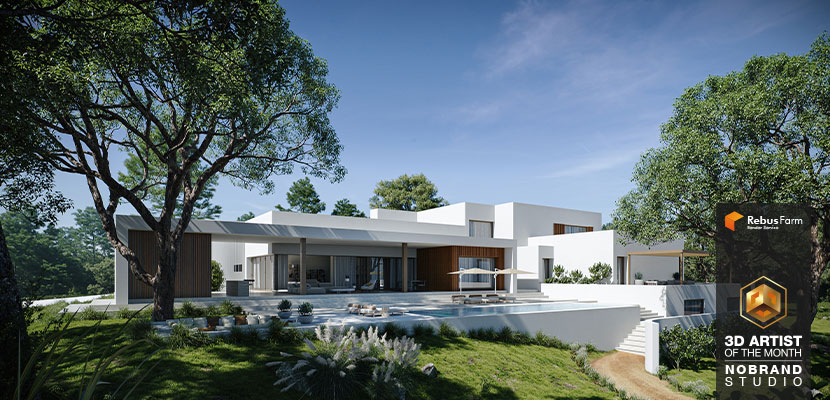 After 25 years of working in the CG industry, keeping the magic alive is no easy task. Our May 2023 3D Artist of the Month, Pedro Jesus Cabellero, has braved the passage of time and maintained his passion by consistently looking for new challenges. His latest business venture Nobrand Studio produces high quality archviz images and animations, such as the luxurious golf resort he submitted to our render farm.
In our interview Pedro recalls his professional journey from an old 8086 processor all the way to his current company and beyond.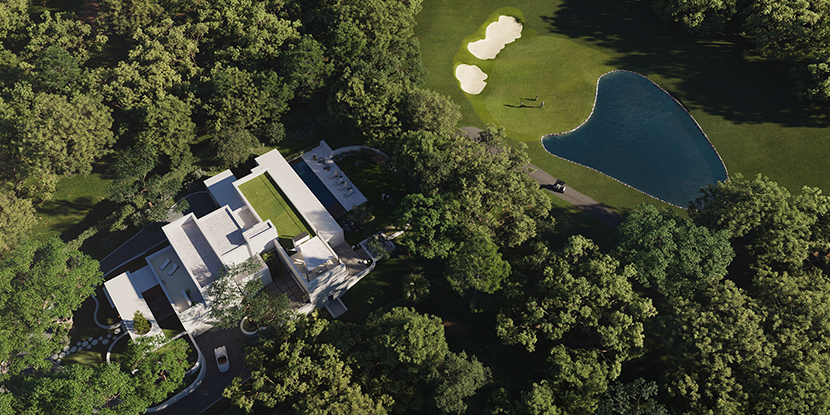 How about a round of golf in a most private setting? This aerial shot emphasizes the defining features of the 'Villa Escorial' project.
Hi Pedro, thanks for joining us! To start things off, please introduce yourself to our readers.
Hello, my name is Pedro Jesus Cabellero, I am a 43-year-old CG artist from Spain, and I am delighted to have this opportunity to show our work here at Nobrand Studio. When I am not sitting in front of a monitor, you are most likely to find me out in nature or at the cinema, two of my biggest passions next to 3D!
Can you tell us a bit about your personal history with 3D and the beginnings of your career as a CG artist?
My first contact with CGI came in the form of a small 8086 computer back in 1996; it was love at first polygon and since then, creating digital images has been part of my DNA. Without any access to specialized training, all my learning has been self-taught. Even during my very first job as a machine technician I took advantage of my newly acquired 3D knowledge to generate mechanical parts and visualize the assembly. In 2004, I decided to dedicate myself exclusively 3D and founded my first studio. In the following years I expanded my experience working in several architecture, interior design and TV studios, and later developed projects such as training academies, conferences, digital studios, and charity campaigns to raise money for abused animals.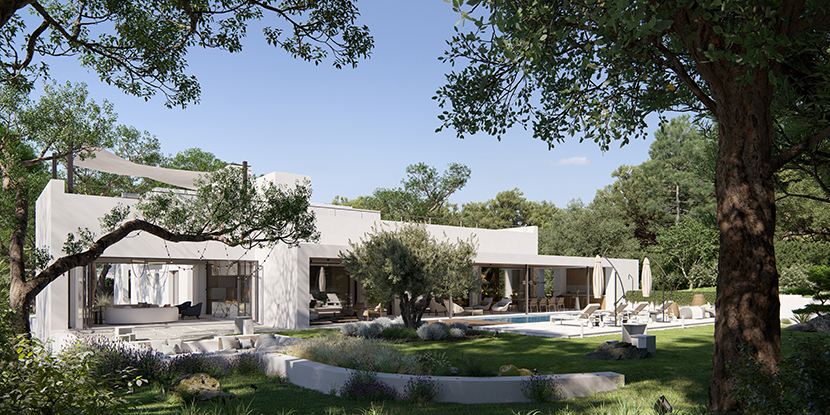 The exterior of one of several mansions that make up the exclusive 'Villa Escorial' resort.
Which brings us to today and your current company Nobrand Studio. When and under what circumstances was the studio established?
The idea of Nobrand dates back to 2016, when I first met my friend and business partner German Carrasco at a decoration studio. Although we already entertained the idea of a joint company, nothing materialized right away. Then in 2019, we did some commercial projects in our free time together under the moniker Delighting Pictures, and two years ago, we finally decided to join forces indefinitely, thus Nobrand Studio was born. The name Nobrand stands for the desire to not tie ourselves down by associating too closely with a specific product or industry. That said, it is also testament to our difficulties in agreeing on a name (laughs).
What services do you provide and who are your clients and target markets?
We develop visuals and cinematic animations for architects, interior designers, and furniture brands; having such a diverse clientele allows us to experiment in many different areas of production. Currently, we are looking into opening new business avenues, such as high-quality scanning of decorative elements, which is something we already incorporate in our own renders but soon will become available to the wider public as an online service. We cannot disclose more at this moment, so please stay tuned!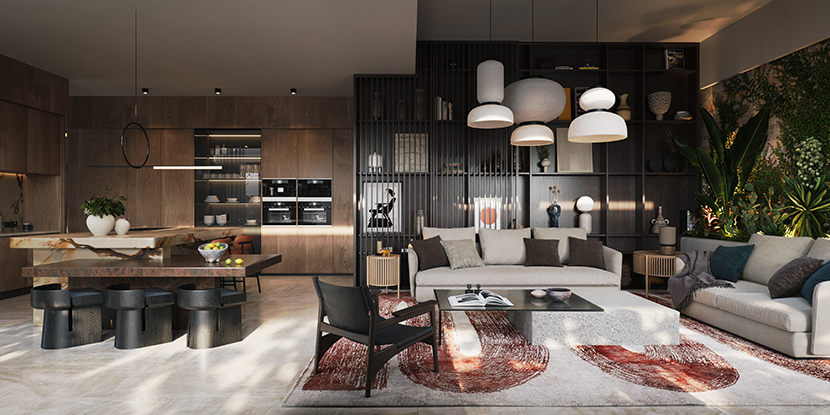 A look inside one of the villas, with this luxurious living room displaying the expert interior design skill found at Nobrand Studio.
Can you tell us a bit about the team at Nobrand and its inner workings?
We are generalists, but we encourage the unique individual interests and abilities of each member of the team. Each of us has a slightly different approach and specialization, whether it is architecture, technology, decoration, or photography, and it is the sum of all these perspectives that allows us to achieve the visual quality we demand for our images. Being a small team, in addition to the CGI work, we distribute some complementary functions among the team members, such as technical development, marketing, etc.
How would you describe your approach and overarching vision as an archviz company?
In Nobrand our philosophy is to always enjoy what we do, with the team at the center of our daily efforts to create the most accommodating work environment. We aim to improve and move forward constantly, looking for new challenges to tackle. We strive to find the proper balance between the needs of our clients and our own artistic madness.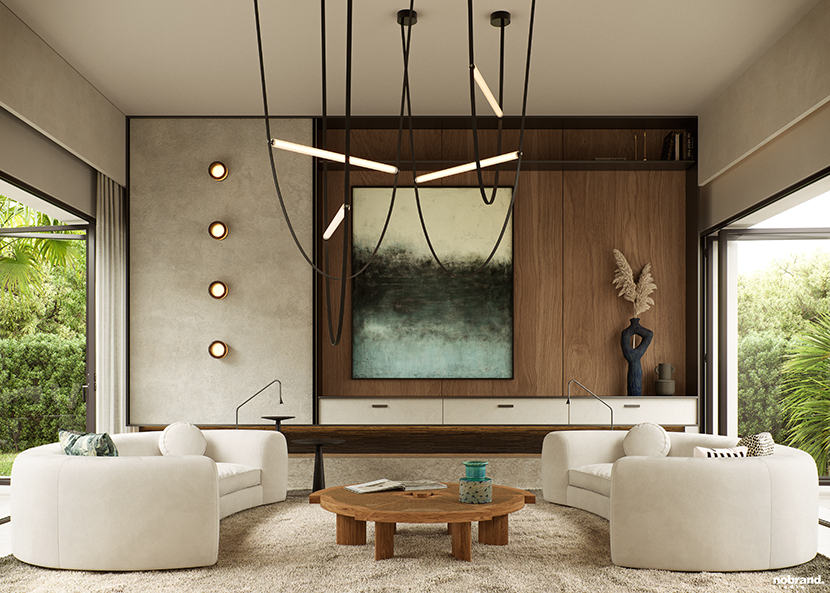 Another example of the interiors of the 'Villa Escorial'. Check out the project in its entirety here!
Let us talk about your work in more detail, namely your submission to our campaign, the 'Villa Escorial', a luxurious mansion with a large swimming pool and its own golf course. Can you first describe the circumstances that lead to the creation of this project? Was this a personal or a commercial project?
'Villa Escorial' is a commercial multi-project composed of several luxury villas built around an exclusive golf course. Essential characteristics as defined by the client were golf as a sport and lifestyle, the latter translating to great importance being placed on nature and privacy. All the visuals we produced for the project were used to print exclusive buyer's guides for each house to be internationally distributed among potential customers.
What parts of the image were especially important to you, both from a visual/design and technical point of view?
For the team it was essential to convey the feeling of calm in a Mediterranean environment whose protagonist is golf, and with this thought we chose materials, decoration, furniture, vegetation, etc.
How long did it take you to complete the project and what were some of the challenges you had to overcome?
While the visuals were completed in a short period of time, the real challenge was the extensive prep work that went into generating various proposals for interior design and landscaping. Since we could not get drone shots of the area due to privacy concerns, we decided to create the aerial views completely in 3D using Google photos as a reference.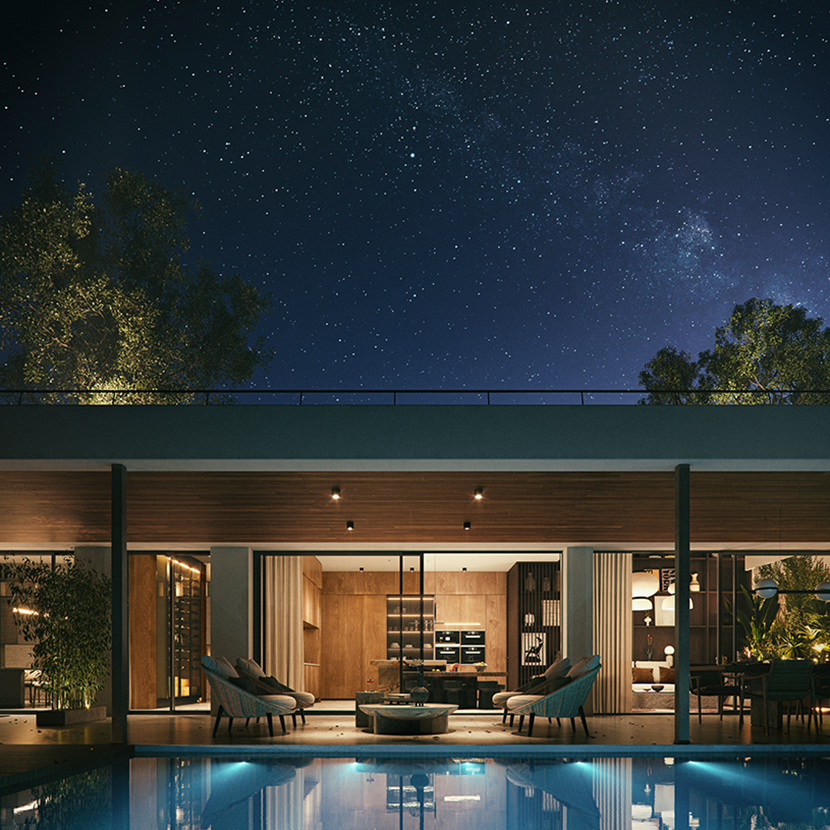 Highlighting the exclusivity of the 'Villa Escorial' resort, this extensive swimming pool sits under the starry night sky.
What software did you use to create this piece? Any plug-ins you found particularly helpful?
All images were developed with 3ds Max, Corona Renderer, and Photoshop, with the Itoo Forest Pack and the Pulze Scene Manager being indispensable plug-ins. For a smooth and transparent workflow, we used the online dashboard Miro for review and quality control purposes; this allowed for efficient communication both internally and with the client.
What has the feedback been like so far? Are you satisfied with the results yourself?
Both the client and the artists involved are happy with the results, and that is the best gift we could ever ask for. Working on the 'Villa Escorial' has allowed us to delve into many creative and technical nuances, especially in terms of different atmospheres.
Have you used RebusFarm before? If so, please tell us about your experience; is there anything you especially like about our service?
The ability to launch images and animations efficiently and quickly is an essential part of our day-to-day operations. As a small studio, having access to RebusFarm's reliable infrastructure therefore is fundamental not only to sustaining but growing our business.
These two examples of photogrammetry offer a glimpse into the future of Nobrand Studio, showcasing one of their upcoming services.

In closing, is there anything else you want to say? Any plugs, shoutouts or present or upcoming projects you would like to mention?
I would like to give thanks to the entire Nobrand team, all our clients, friends, and families! Finally, a special thanks goes out to my partners German Carrasco and Adrian Morillas: your continued and unconditional support makes Nobrand Studio a special place for all of us to enjoy our profession.
Pedro, thank you so much for taking the time and all the best in the future!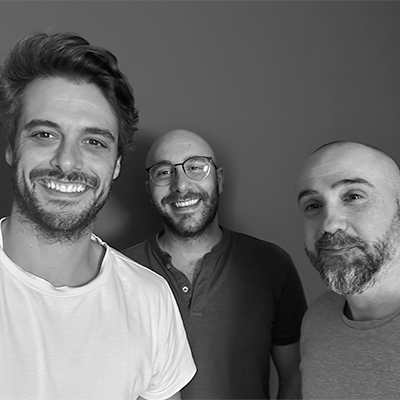 About the artist
Pedro Jesus Cabellero is a Spanish 3D artist with over 25 years of experience in the industry. In 2021, he linked up with fellow artist German Carrasco to found Nobrand Studio. Together with their small team of artists, they produce high quality architectural visualizations and animations for a diverse clientele.