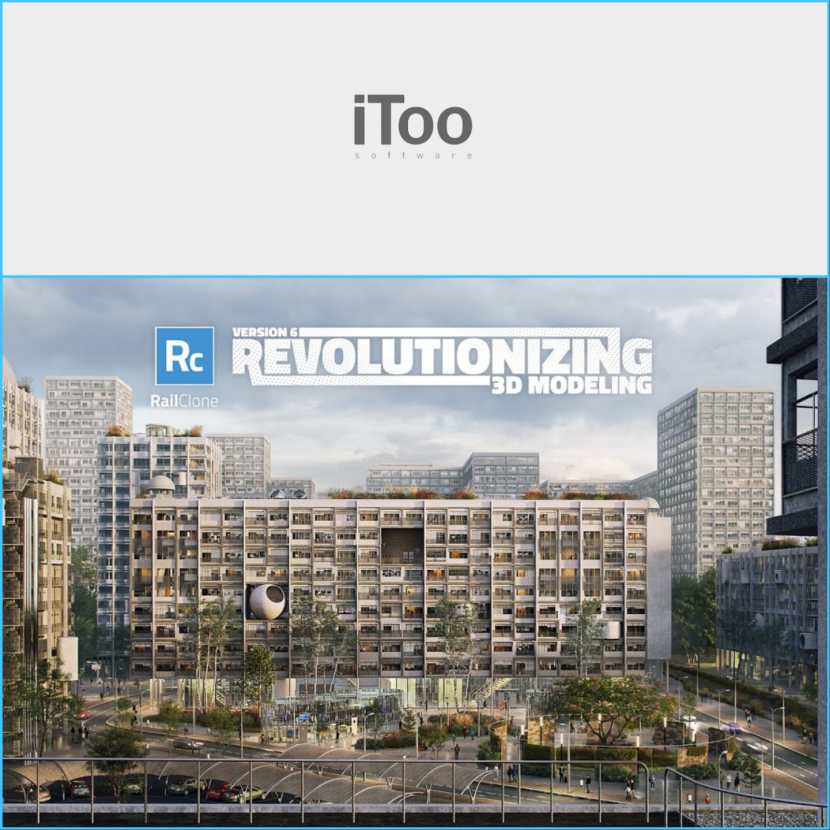 iToo Software just released an awesome video showcasing the latest RailClone 6 features!
iToo Software proudly announces the release of RailClone 6, the latest version of the parametric modeling and layout tool for 3ds Max, packed with new features and improvements to enhance the user experience when creating new styles.

The node-based editor is now much more user-friendly. In previous versions, the style editor would close when selecting another object. In RailClone 6 the style editor remains available so you can continue to edit the graph while interacting with the rest of the scene. There are also many more improvements to make work easier, including new ways to import scene objects, tools to make graphs easier to read, simplified techniques to create macros, new randomization options, and much more.

Converting an existing model to RailClone is now much easier thanks to the new RC Slice modifier. It enables you to cut a model into the parts used in a typical RailClone style using a single easy-to-understand interface. Instead of generating lots of small parts, you can add the same sliced object to multiple segment nodes for a more intuitive and easy-to-update workflow.

Once you've spent time creating a style, it's important that it's easy to reuse. RailClone 6 enhances the library management system, allowing you to quickly add new objects to a library by right-clicking in the browser and selecting the new Import RailClone Objects from the Scene option. You can batch-import objects, generate material libraries and thumbnails, and collect all the assets in one folder. You can even password-protect your styles so you can share them with confidence.

In addition to these new features, RailClone 6 also includes the first phase of an initiative to overhaul the built-in libraries. Five collections are updated with new geometry, textures, and shaders that meet the high-quality standards of the industry.

We invite you to participate in a live stream focusing on the new features of RailClone 6, on Thursday, June 15th, at 16:00 CET, we'll be hosting Rafael Zarza García from RZGraphics. He'll provide a fascinating walk-through of his impressive RailClone 6 promo scene, sharing numerous valuable tips and tricks along the way.

RailClone 6 marks the first phase of a major overhaul of the built-in library. In this release, there are over 160 new parametric assets in five collections including masonry walls, park benches, bins, bike racks, pergolas, roads, streetlights, traffic lights, parking canopies bollards, traffic barriers, and more.

During the remainder of the year, we'll be releasing more updates with the aim of completely redoing the free styles that ship with the plugin with improved modeling, textures, and shaders.

You can see all of the assets that are included at no additional charge with a Pro license of RailClone in iToo online asset browser. Check the video now!
iToo Software is a 3D software and developing company founded in 1999 in Cádiz, southern Spain. The creators of Forest Pack and RailClone, top-ranked plugins for Autodesk 3ds Max, with a wide range of applications in ArchViz, VFX, and games. Itoo team is constantly working hard to develop clever and productive tools which make 3D Artists' life easier.